Planning a wedding involves making so many decisions such as choosing the venue, food, décor, entertainment etc. There is a vision in every couple's mind about the wedding they want and much of this is achieved through selecting the right venue and décor. In this article, we are giving some examples of décor items that can be hired.
Centrepieces
Are an important décor item of a wedding reception and they can create a visually appealing setting for the venue. There are many options you can consider for centrepieces with the most popular being floral arrangements to options such as lanterns and candelabras. You can hire centrepieces with designs that match the ambience you are going for. These can also match your colour scheme. You can also create memorable moments by adding smaller events within the wedding. One such example is using a champagne tower. In addition to being a décor element, a champagne tower also creates an interactive experience. And you can select a décor hire company that can provide champagne tower glasses. They can set this up to create a beautiful element and you can also match the colour theme and style of the wedding by incorporating certain items into the tower such s fairy lights, floral arrangements etc. And this will create a wow factor that will captivate your guests.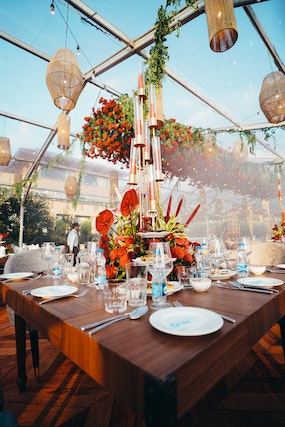 Flowers
Are a popular décor element in any wedding and many couples are turning to artificial flowers due to their convenience. You don't need effort to achieve the look of fresh blooms when using artificial flowers and this means not having to worry about the flowers wilting. And if any of your guests have an allergy, artificial flowers will not pose a problem. You can use artificial flowers for floraarrangements, bouquets, corsages etc. You can also hire ceiling flowers or flower chandeliers. These can be hung from the ceiling for dramatic effect. These will create stunning focal points for the event and you can also add greenery to this. You can find ceiling flowers ranging from delicate to extravagant arrangements depending on your vision for the wedding.
And as the wedding cake also has its own place,
You can hire a cake table to elevate the presentation. You can have a decorated cake table so that your wedding cake gets the spotlight it deserves. You can incorporate the design elements in overall décor in the table. And this will highlight the cake easily. And if the venue is not able to offer the style of chairs that perfectly matches the theme and style of your wedding, you can also hire chairs to create a more cohesive seating arrangement. For example, you can choose chairs with colourful accents to create pops of colour throughout the venue or use classic white covers or tiffany chairs. This is another element that will help you create a seamless look throughout the venue. You can also hire arbours and backdrops for the reception or ceremony. These can be decorated with so many elements such as drapes, greenery and flowers.