Pregnancy does a lot of physical changes in a woman's body. In the beginning of the pregnancy journey, you could still wear a lot of your usual favourites but it all changes later on when your baby bump starts to become bigger and more apparent than before. You'll need to invest in some good and comfy maternity clothes you could wear throughout your pregnancy.
Here are some of the best maternity workwear pieces that are worth it to have in your wardrobe.
Flowy Blouses
Flowy blouses are one of the most comfortable pieces during pregnancy. It has ample space in the midsection, giving more room for your tummy to fit in as it grows. What's good with flowy blouses is you can still wear them even after giving birth. You could pair them with denim jeans for casual workdays or you're a pair of maternity trousers. When shopping for flowy blouses, look for ones that are made from cool and comfy fabric for maximum comfort.
Blazers
Blazers are perfect as a workplace layering piece. No matter what top you're wearing, you can always wear a blazer over it for an upscale look. It also conceals your belly a bit, offering more coverage and warmth during cooler days or when you're just feeling chilly. It also gives you an instant outfit ready for a meeting or any formal gathering in the workplace.
Knit Dresses
Another must-have pieces for pregnant women are a knit dress. You don't have to think a lot about your outfit when you wear a dress since you have the whole thing in one garment. Whether it is form-fitting or flowy, the best thing about knit dresses is that they're stretchable.
You can continue wearing it as your belly grows plus it looks perfectly fit to be worn in the workplace. You could even wear a blazer or long cardigan over it for added comfort in the workplace. For special occasions and gatherings, look for more formal designer maternity workwear and dresses for an upscale look.
Long Cardigan
For more casual days, you could opt for a long cardigan instead of a blazer. Cardigans are comfier and warmer than blazer, making them perfect for cooler months. They also contain more fabric than regular blazers, offering more coverage to your body if you feel exposed wearing regular maternity clothes.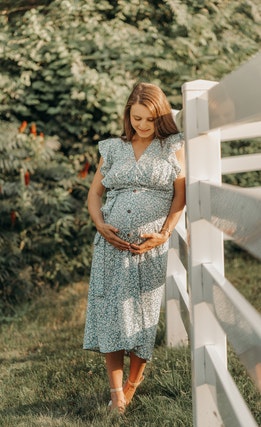 Maternity Pants
Lastly, if skirts and dresses aren't your style, you could opt for maternity pants instead. You could pair it with a flowy blouse and a tailored blazer for a professional look perfect for the workplace. When choosing maternity pants, go for plain black or neutral colours so they look fit for the workplace plus they are easy to match with any top.
Dressing while pregnant can be challenging especially since there are some factors to be considered in the workplace. However, with these basic pregnancy must-have wardrobe pieces, you can create stylish maternity outfit ensembles every day when you're going to work.